Readings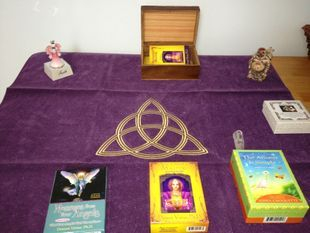 Card Readings with Maria

Since the dawn of time, people have sought the advice of an oracle.

The desire for clarity and insight, the need to make sense of the turmoil of everyday life and find peace with our place in the world is healthy. The wish to understand the greater meaning of the changes we face; the desire to understand ourselves in relationship to those we love, all these are reasons to seek beyond our own mind for a glimpse of a greater plan.

Whether you hope for confirmation that your soul has a unique purpose and your life a greater plan, or you want to move swiftly forward on your chosen path... a card reading may help reveal the answers to your questions. The challenge is to dare, to know, to will, and sometimes, to keep silent, listening to the answers. The cards are a doorway, a portal to the astral plane, which you ultimately make your own.

Angel Card Readings

The benefit of an angel card reading is to give clarity, a feeling of security, solutions to problems and peace of mind. An Angel Card reading gives you an insight on what is needed in order for you to heal and manifest the things desire. In an Angel card reading you will receive messages from you Guardian Angel or the Archangels.

Benefits for You:

It will help you to become more passionate about your life.

It will help you become aware of aspects in your life that need attention.

It will give you insights and guidance about your life path, love, career, wealth and health.

It will encourage you to make positive decisions about your life.

Readings are £30
All Readings are for guidance only – we all have free will

We have mediums available for oracle card readings and mediumship readings please contact us for further information.